Tribute
If you would like to say a few words about Tony
e-mail me and I will post them here.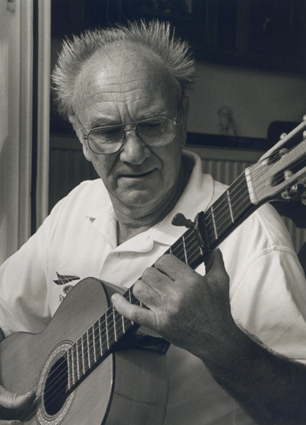 I cannot describe how I felt upon learning that Tony had passed away. I do know I felt empty and through the messages I have received from other guitar owners, we all share this feeling. It is like we are part of an extended family. I will always appreciate the experience of working with him on my guitars. And the hospitality shown by him and Anne when I was able to visit them. Seeing the work shop, his collection of cars, and the bi-plane he was building in the garage. I will cherish these and other memories, and the fact that I was able to get to know him. I am also grateful to all the friends I have made thru knowing Tony.
Mahalo and Aloha my friend.
Rick, Hawaii
August 24. 2002
Its the end of era. Tony Zemaitis was a gentleman. I had the honor of meeting TONY ZEMAITIS . It was truly a great unique experience. He welcomed me into his home and treated me like part of his family. There were Pearl fronts and Metal fronts tucked away in every corner under construction. We had lunch in his gardens and he played classical guitar in his workshop. It was a trip I will never forget. I am glad I had the chance to acquire his guitars. He made my Rock n Roll dreams come true. I am glad I saved all his letters that I can read to this day and recall all those experiences. TONY -If you are listening You we will never forget you...
May you ROCK N ROLL in peace !!...
PETE-New York USA
8/24/02