Do Not Become A Victim
There are no New Zemaitis Guitars being made.
Beware of Forgeries
Below is a letter from Tony and a transcription of the letter.
Thanks to Graham for getting this to me.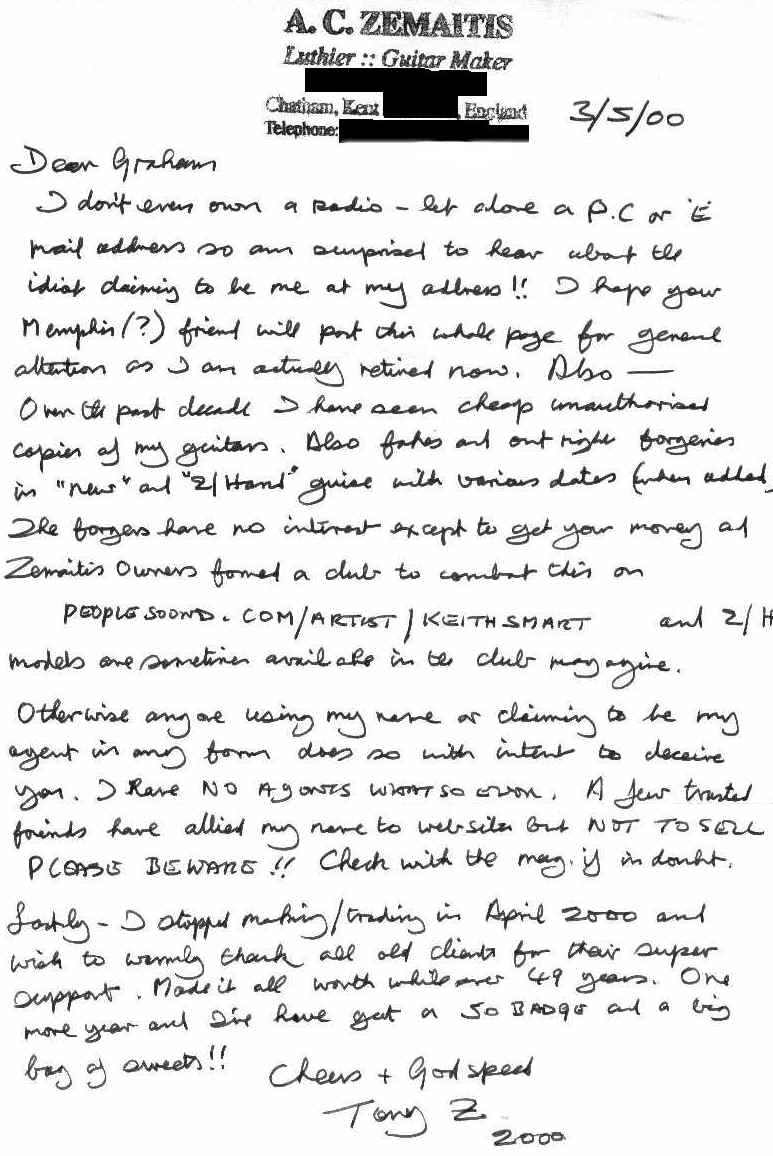 Dear Graham
I don't even own a radio, let alone a PC or e-mail address, so I am surprised about the idiot claiming to be me at my address!! I hope your Memphis (actually Hawaii - Ed) friend will post this page for general attention as I am actually retired now.
Also, I over the past decade have seen cheap unauthorized copies of my Guitars, also fakes and outright forgeries in " new" and "2 Hand" guise with various dates (when added) The Forgers have no interest except to get your money and Zemaitis owners have formed a club to combat this on PEOPLESOUND.COM/ARTIST/KEITHSMART (Also on this website - Ed) and 2 Hand models are sometimes available in the club magazine
Otherwise anyone using my name or claiming to be my agent in any form does so with intent to deceive you. I have NO AGENTS WHATSOEVER. A few trusted friends have my name allied to ( this) website, BUT NOT TO SELL, PLEASE BEWARE!!! Check with the (club) mag(azine) if in doubt.
Lastly, I stopped trading in April 2000 and wish to warmly thank all old clients for their super support. Made it worth while over (the) 49 years. One more year and I would have got a "50 BADGE" and a big bag of sweets.
Cheers & God speed
Tony Z , 2000
Through recent (April 2000) conversation with Tony I would like to reinforce the following basic guidelines;
It is absolutely impossible to buy a new Zemaitis guitar. Under no circumstance will anymore legal guitars be produced.
Tony Zemaitis has not made any agreements for any organization to use his name or designs in the manufacture of guitars.
Zemaitis guitars have become highly collectable and sought after world-wide. If you want to buy one, ask for documents, history etc. Most reliably contact the Zemaitis owners club for help and advice.
Agents purporting to be able to obtain orders for NEW guitars should be regarded as doing so fraudulently and reported to relevant authorities. Do not buy from these people, you will not receive a guitar of the same quality or provenance as an original.
Tony is extremely concerned that greedy, exploitative fraudsters are undermining his hard work over the years into building a respected name and reputation. Please don" t be caught out and by being vigilant they will be stopped.
Return to Zemaitis Guitars