Greco
and
Zemaitis Japan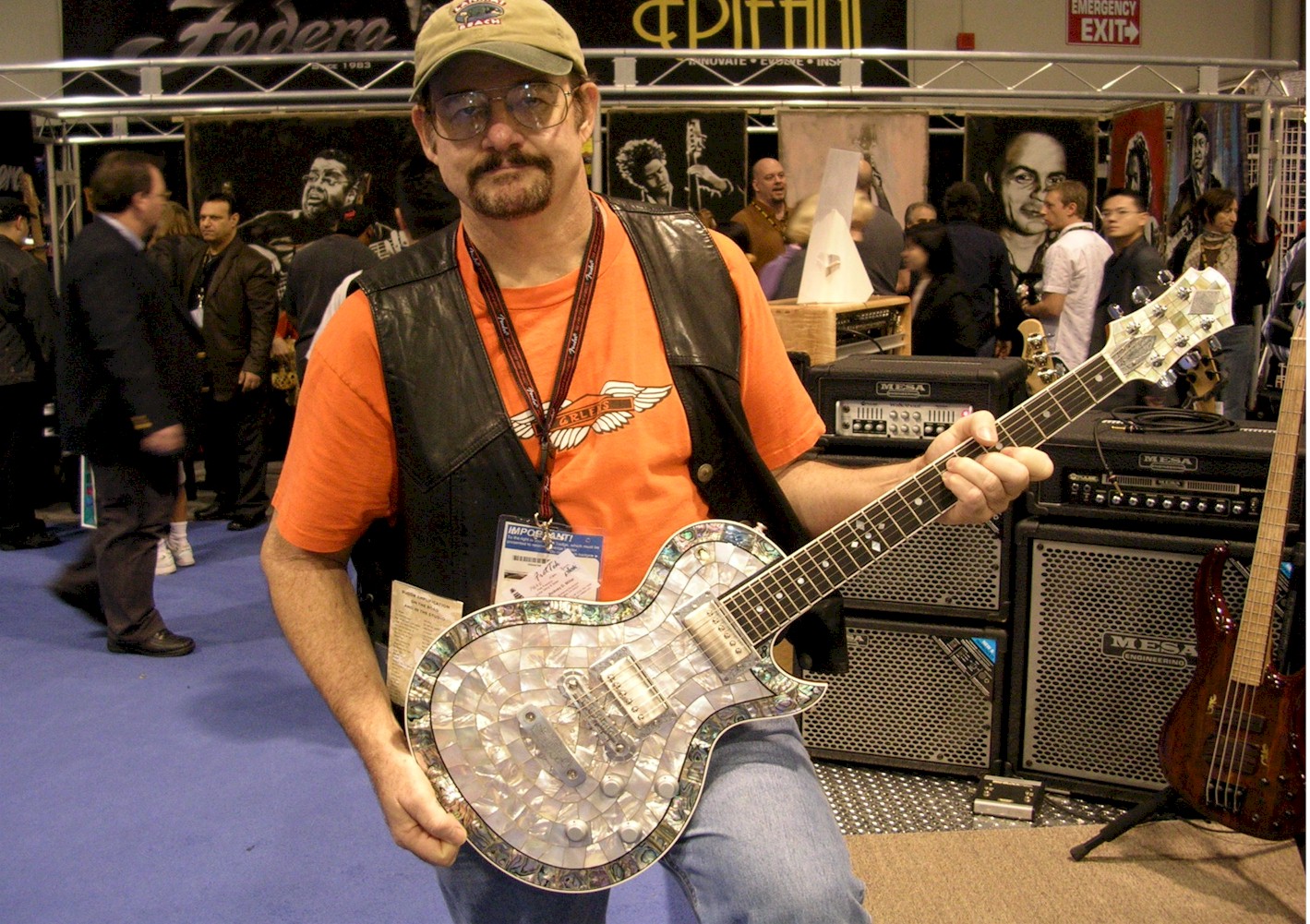 Ok, here is my take on the new "Zemaitis Guitars" and the Greco copies now being produced.
In January I attended the NAMM show. While I was wondering around, I saw the new "Zemaitis Guitars" and the Greco copies displayed at the MESA BOOGIE both. I guess they were sharing the space as MESA BOOGIE is a dealer of the guitars at their Hollywood store.
After standing there and not only looking, but handling both the Greco's and the Zemaitis Guitars, not one of the manufacture rep's said a word to me. Now granted I had a "yellow" badge that says I was a visitor, only because all of Coconut Grove Music's buyer badges were used up, and that's all that was left. But still, you think they would have said something to anyone who was checking out their product as in depth as I was. Plus I was explaining to other booth visitors what the guitars were. I am no expert, but I do know a few things.
Anyway, here is my review of the guitars. And I must add that this is my opinion. So check them out and make your own assessment.
First, I must say, they are very well made guitars. You cannot find fault with the workmanship any where. exactly what you would expect for a $15,000.00 to 20,000.00 dollar guitar to be.
Are they worth it ? That is up to the market for these guitars. But I will say this, they are not a Zemaitis. As with any artist, Tony put a little bit of himself in every guitar he built. And if you own, or have ever seen one up close, you know that the guitars were not perfect. Maybe it was some sanding marks on the guitar, or that something didn't fit perfectly, you know, little flaws that gave the guitar some character. Plus they had a "warmth", like an old friend, to them.
Also, every guitar that Tony made, was made for the person that ordered it. And that was half of the deal in owning one. The letters back and forth, choosing the details of your guitar, the drawing of the layout, tracing your hand so he could set up the neck for you. All part of the "Tony Zemaitis" experience. And then, finally getting to open the shipping crate and seeing what Tony had created for you, a guitar built for you, as a custom order instrument should be. I think I walked around for days with a big grin on my face. Tony never made 2 guitars exactly the same.
Now, on to the Greco's. I feel this is a great idea. If you own a Tony built Zemaitis, and with the market getting a bit pricey, buy a Greco to gig with. For under 2 grand you can have a well built instrument, that you can play and not worry about losing something that is irreplaceable. And it's cool, everybody knows you got the real deal, so it's ok to play the copy. And if you to think this is a cool idea, you can always buy a Greco from my buddy Dan, he owns Dan's Guitars in Honolulu.
I will say, that when I went back to the booth at another time, the guys from MESA BOOGIE were very helpful, and invited me to check out the guitars at the Hollywood store. Now I am not a big fan of MESA BOOGIE amps, not my sound, but I do own a 295 power amp. And after my conversation with them, I now have a lot of respect for their treatment of customer's or potential customer. I give them a big thumbs up !
Now, don't get me wrong, these are very well built and great looking guitars. But I would have called them something else, maybe "Z Tributes" and not have charged as much, but that is just me. Then again, I have no idea what kind of deal was made with Tony's wife and Tony Jr. So if you have a chance, try and play one and see what you think.
Update NAMM 2006
Zemaitis Guitars had their own booth this year at the NAMM show. There are many different models availible now (as seen in the photo's behind me).
It was nice to meet and talk with Chuck and Taka, and I can tell you, they are really into Zemaitis Guitars and seem to have lots of respect for Tony and his memory.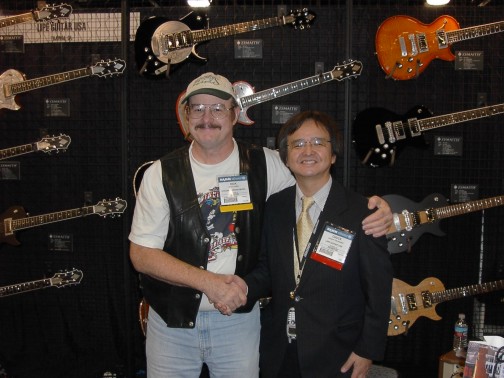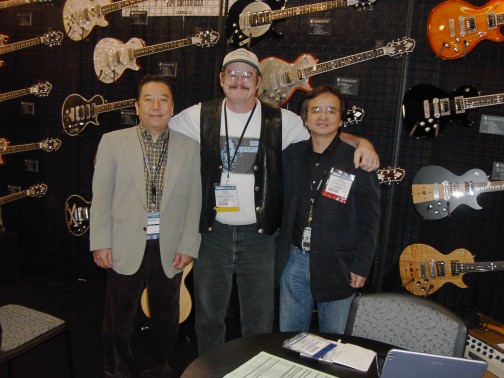 So, what do I think...
Well once again I still feel they are too nice... the quality is incredible and they are very well built. And some of the new models have a "dull" finish to them, now that is a step in the right direction. And with prices headed out of sight in the vintage market, here is a chance to own a classic style guitar that is collectable at a decent price. And best, for me, they are now making acoustics with the Heart Shape sound hole. These are being made in the U.K. (Ireland). Maybe I'll be able to get one, that would be a dream come true.
And I would still consider the Greco's a great instrument to use instead of your real "Z". I have heard from a few others who feel the same way... and they are really happy with their new "Z's" and I can see why.
So if you were on the fence about buying one.. well I'll give you a push, go ahead... you'll be happy
"Z's" are still the best looking stage guitars.
Any comments ? email me